Become a Distributor
Being a Distributor @ eTravelSmart, you can create your own network of agents across India.
This is a unique model which will enable creation of any number of agents with designated commission rates and agent balance management. In this model, the Distributor has the unique advantage of earning commission on his agent's bookings.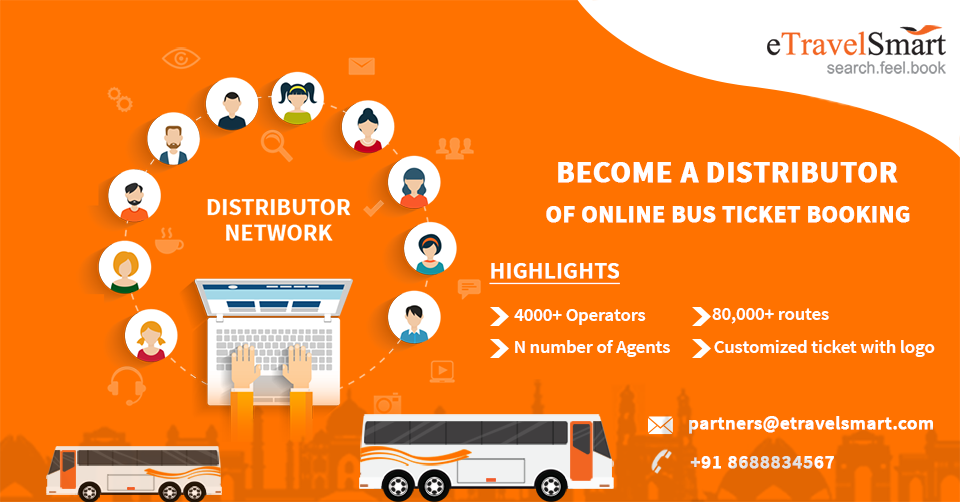 ---
1. My Profile: This feature allows to access/update your complete information at any time. Also you will have an option to upload your won logo. This information i.e. Distributor Information & Logo will be displayed in the eTicket of the customer and the SMS sent to customer will also have your Name & Contact info. This will help in creating your own brand with customers through eTravelSmart.
2. Search/Cancel: Just by using the operator/ETS PNR number, you will be able to search for bookings and if required cancel them with just 1 simple step.
3. Funds Recharge: Enjoy hassle free recharge with multiple flexible options:
Instant Recharge: Recharge instantly by using Debit/Credit cards or through Net Banking.

Cash/Cheque Deposit/Online Transfer: Deposit cash /cheque or initiate an online transfer in our account or through your nearest bank branch and just send across a confirmation details. Once we receive the credit, your balance will be immediately updated.
4. Payment Report: This feature allows you to refer to the past payments made at any time.
5. Booking/Cancellation Report: Booking/Cancellation report is a comprehensive option that will empower you to look at all the bookings/cancellations made for a particular period. This will enable you to have better track of all bookings/cancellations made by you. In this option, you will also be able to see the bookings done by your agents.
6. Change Password: eTravelSmart ensures high level of security and you can ensure better security by changing password at any time.
Distributor Agent
As a distributor agent you will have all benefits of maintaining profile information, Booking/Cancel, Payment Report to Distributor, Commission Reports, etc. The Profile information option will enable you to update your own information and also uploading your logo. Your information & logo will be displayed on customer's eTicket and also in the SMS sent to the customers for the bookings made by/through you thereby creating your own brand with customers through eTravelSmart.
Register as Distributor
Contact Us:
Email: marketing@etravelsmart.com/ partners@etravelsmart.com
Contact Number:+91- 86888 34567 .